Rack-Socket Sets-1/4″,3/8″, 1/2″ Drives- HG
$54.95
Use: These racks hold sockets sets with dedicated prongs with visual labels for accurate placement.
Included In System Purchase: Not included in system purchase. Can be chosen with $200.00 accessory option.
Placement on System: This accessory was designed for use on the center shelves of the system.
Specs: Hansen Global 92000 SAE & Metric, 2-Row Socket Tray Set – 6-Pieces, Red & Grey
Physical Benefits:  These racks allow sockets to be slipped into place from a horizontal motion with only a slight vertical motion to seat the tool in the available holders or on the shelf flats surface. Each prong is labeled for simple inventory control. The single motion is possible due to the open Shadow Staging System access to tools. This combination of devices reduces physical motion for tool selection and return. This is all aided by the constant visual cues for tool location both for selecting and returning tools.
Made in the USA.
I have heard a few times that mechanics love them but the prongs can break on occasion. This concern was relieved when we found out they have a lifetime warranty. We are not their warranty expert but they are great about honoring it and most mechanics are not aware it exists so thought we would share the information.
Description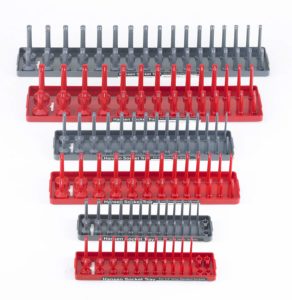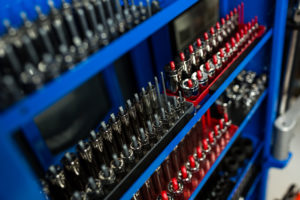 Only logged in customers who have purchased this product may leave a review.