Thank you for checking out our new tool staging systems for mechanics
We are happy to introduce this time saving product to the markets driving our country- and keeping it moving
.
Shadow was designed for four main purposes:
Save Large Quantities of Time
Fast and Accurate Inventory Control
Ergonomic Relief
Laptop/Notebook Access At Point-Of-Work
The Shadow Design Needed To:
Hold a large volume of tools used on a regular basis– lessen steps away from the point-of-work
Stage tools (dedicated/visible/easily reached positions)– make use and inventory control fast
Provide universal tool holding capabilities– hold most sizes/brands of tools on the market
Provide all power supply options– lessen steps away from the point-of-work
Provide laptop control – easy positioning in line-of-site with options for effective use
Maneuver Easily– reduce strain moving thru facility and easy/accurate system positioning for work
Secure tools into a small cabinet– to save income generating floor space
The patented Shadow Tool Staging Systems accomplished all of the goals, saving an average of 30-90 minutes/day/mechanic.
Shadow Tool Staging System Purchasing Reasons Include:
Increase Available Labor Hours
Reduce Tool Inventory Loss
Incentive for New Mechanics
Ergonomic Relief for Mechanic
Laptop Use Efficiency
Space Savings
Want to be cool*
The TSS 6.5 and TSS 5.2 are identical in features except for height.  The TSS 6.5 is 15″ taller than the TSS 5.2, so it includes two (2) more center section Shelves and has 15″ more height in both extension panels.  TSS 6.5 is purchased for more tool holding capabilities.  The TSS 5.2 is typically preferred for more mobile applications, either transporting for use to multiple locations or for maneuvering in large industrial maintenance facilities.
Images Below: Demonstrate opening your Shadow TSS 6.5 system and positioning the table and laptop to be ready for work.  The images also include views from the back and side.  The accessories in the images are custom accessory choices and are for demonstration purposes only.
Systems can be purchased without any accessories or with custom selection of our accessory options or with the Master Accessory Package (recommended, selections are common for most mechanics).
Please note, countless accessory placement options are possible.  Accessories are easily moved as preference or work demands change over time.  All accessories were designed to hold tools in visually obvious positions, so tools can be selected quickly and inventory can be seen quickly throughout the day.
Simply put, Shadow relieves the mental/physical work required to control all of the tools used throughout the day.  Shadow is a new tool to help increase profits every day.
Protected under US Patent 8,944,444 and Patents Pending
Shadow Tool Staging System TSS 6.5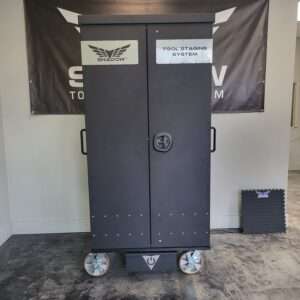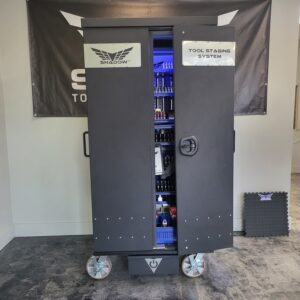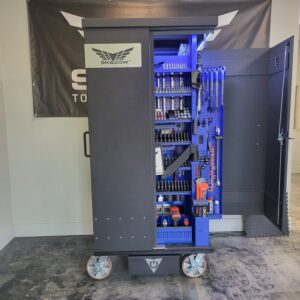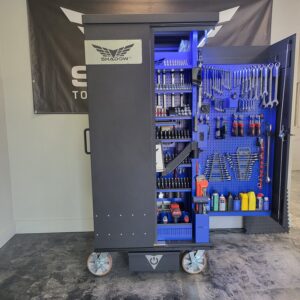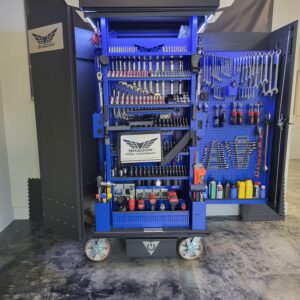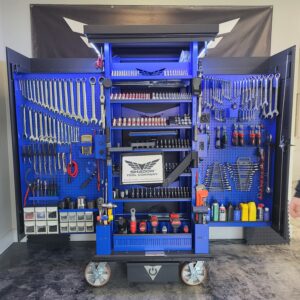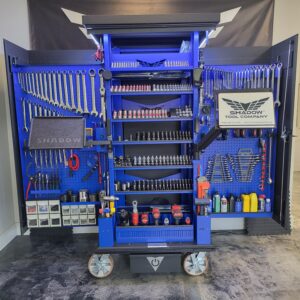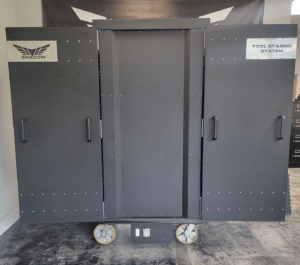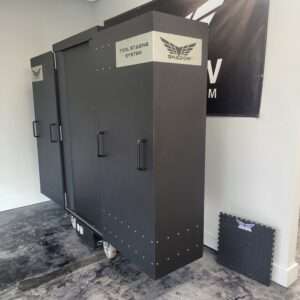 Accessory/Tool Placement Examples: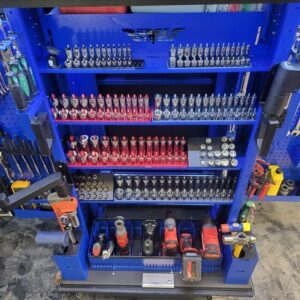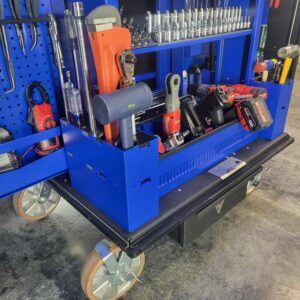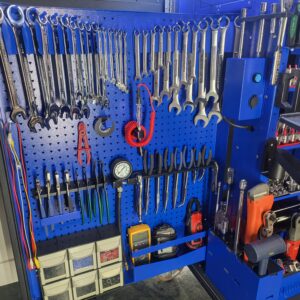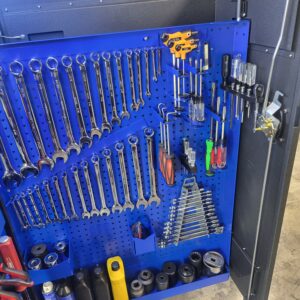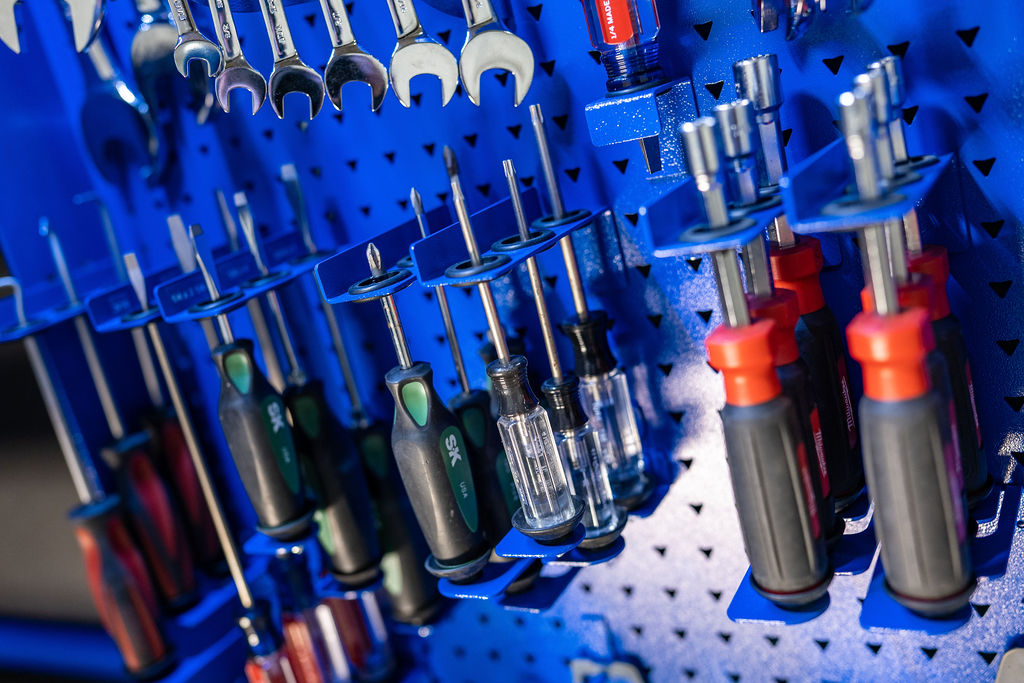 .
*Can not be guaranteed…..