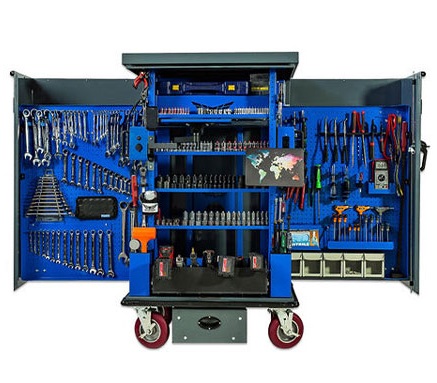 SHADOW TOOL STAGING SYSTEM TSS 5.2
Your Shadow Staging System™ includes amazing standard features to provide superior capabilities at your point-of-work. The included features and accessories listed below provide the base system you need. Simply add accessories for a complete custom fit to maximize your tool processing capabilities.
Either the Master Accessory Package or individual tool accessory selections are needed to complete the Shadow Tool Staging systems. Your personal preference will dictate how you choose to expand your system.
The Shadow Tool Company recommends that Master Accessory Package as it provides holding capabilities for a vast selection of tools. Once you are accustomed to your system you can easily expand capabilities from there.
Dimensions: 5'2″ Tall by 30″ Deep by 36″ Wide, expanding to 7'6″ Wide during use.
ALL PRODUCT, PRODUCT SPECIFICATIONS AND DATA ARE SUBJECT TO CHANGE WITHOUT NOTICE TO IMPROVE RELIABILITY, FUNCTION OR DESIGN OR OTHERWISE.
Tools are not included.
Shadow TSS 5.2 Included Features and Accessories: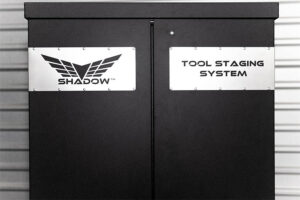 Fully Enclosed System with Keyed Lock
Fully Enclosed System with Keyed Lock . The enclosure locks down using a cam system, that is controlled with one handle, to secure the side panels and lower drawer with one motion. The enclosure also has two handles on either side for easy maneuvering. 
Two vertically positioned handles are on each end to allow moving the system easily in any direction. Two interior handles also allow exact placement when the system is open.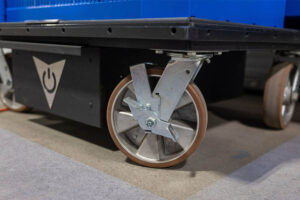 Shadow has four (4) 8″ wheels mounted on industrial casters. The back two wheels have index locks to prevent free swivel motion. The index locks allow the wheel position to be locked for controlled moving the Shadow system over a distance. Unlocking the index allows free swivel of casters. This allows simple Shadow positioning at the point-of-work for easy hands reach access to tools. 
The front two casters have brakes.
All four wheels are ergonomic certified for ease of motion. Each caster is rates for 1,250 lbs.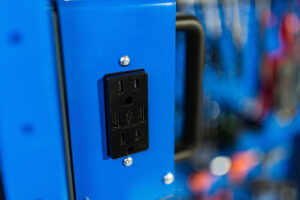 Built-In Power (110, USB, 12V)
Power Support includes an inverted male inlet plug which works with a standard extension cord, dedicated GFI protector on back of unit, battery backup for remote LED light usage, 110V outlet with 2 USB ports (A and C Styles) in lower battery charging station drawer, 110V outlet with 2 USB ports (A and C Styles) mounted on the right stanchion, 12V outlet and LED light switch mounted on the left stanchion.
The LED lighting strip is mounted under the enclosure lid to ensure rapid selection of tools to continue in any lighting environment (LEDs are intended to light up tools for selection/return)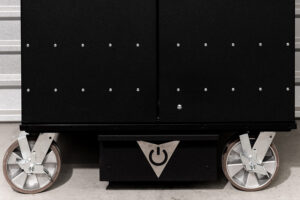 Battery Charging Drawer below system base (or anything drawer) with a standard 110 outlet including both the USB A and C-style ports. The outlet is on the back drawer panel for easy power access.
The drawer locks with enclosure locking system. Soft close slides keep drawer in place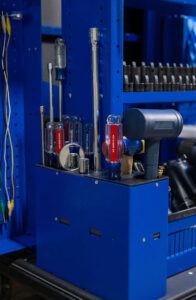 Large Tool Canister Racks
Canisters on left and right front of base used for long items like extensions, screwdrivers, pry pry bars, hammers, etc. These canisters use tool control rack inserts, so you always have options to choose from based upon how you want to use this area.  You can use the tool rack control inserts that have holes in them that we provide with the system or use the blank inserts with no holes in them (you can drill your own custom hole patterns). We provide the blank sets with the system purchase so you get two complete tool rack control inserts to mix and match.  All are made from HDPE industrial plastic so they machine easily.
Driver Holding Rack on lower front by the base includes (4) sets of driver holding insert sets which can be installed to fit any driver width. These were intended to be installed with space in between each set to create another location for inline drivers or to place battery driven drivers on their battery packs. This holder offers numerous personal preference options on how you would like your drivers presented.
The entire rack can be moved back (requires bolt adjustments) to allow larger than 1/2″ drive power tools to be held.
Holds 7 or more drivers, or less if you prefer.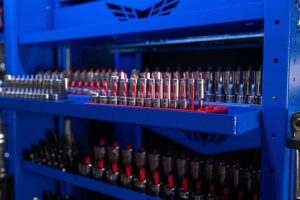 Four (5) Center Shelves which are intended to hold socket sets. Each shelf is slotted to allow accessory adaptation if desired. Front lip has rubber trim.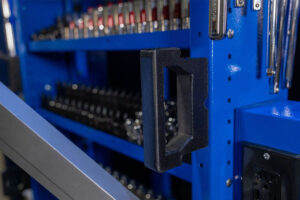 Four (4) Driver Extension Racks
Four (4) Driver Extension Racks that mount on the side supports. You have four patterns to choose from and again you can choose blanks (holders with no predrilled holes) if you prefer. These are made out of HDPE plastic for easy machining.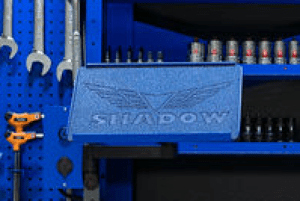 One (1) Table on Swivel Mount
One (1) Table on Swivel Arm (10″ by 14″ table with rim) that can extend out 16 inches for use and folds into the system enclosure at the end of the day.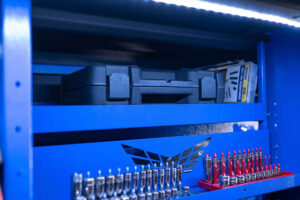 Built-In Top Shelf area for miscellaneous kits to be stowed. This area is 27″ wide by 21″ deep and can be found right under the enclosure lid. The height is 5.5″ but varies with the additional space under the top lid (that lid space will give you another two inches of height).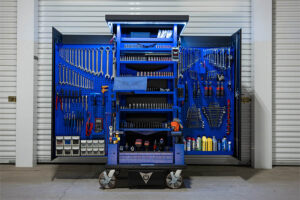 Two (2) Large Extension Panels
Two (2) Wing Panels measuring 30″ wide by 40″ high. These panels have Shadow holes (Center V of Shadow Logo hole style) every 1″ for accessory attachment. They also have a 3″ framed edge giving the wing panels depth and also  serve as a handle to easily slide panels out for use. These frames also have additional holes (not as many as the panels).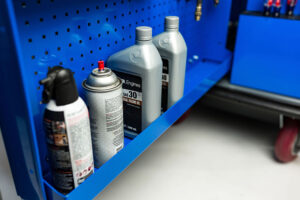 One (1) Fluid Shelf this shelf runs the width of the extension panel. The fluid shelf was designed to hold a standard oil bottle but works great for extra large sockets, etc.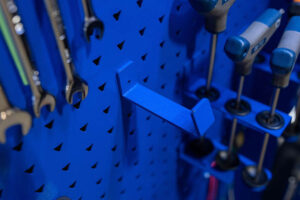 One (1) Coat/Key Hook that can be used for anything. It is placed behind the left extension panel so when you first open the system you can hang your coat or secure your keys. Then they will be there at the end of the day.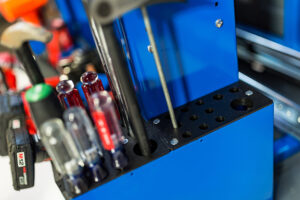 Custom Canister Blank Sets
The canister racks are very important real estate on your Shadow system. This is why you are provided with predrilled inserts plus blank inserts (without holes drilled). Every industry has different large tool requirements. The custom capabilities of the rack insert options sill provide the best use of this space.
This photo shows an example of how the canister racks can be changed to accommodate different tool holding choices. The sets are divided. The front square is separate from the back rectangle shaped rack. This makes custom drilling easier when done in sections. You can also select to use the predrilled racks we provide and custom drill the blank racks to custom fit only the front section.