Rack-Wrench-Horizontal-1 rack- Hansen Global Brand
$8.95
Use: This rack hold wrenches in a horizontal orientation with visual labels for accurate placement.
Included In System Purchase: Included in system purchase.
Placement on System: This accessory was designed for use on the extension panel sections of the system.
Specs: Tough polypropylene racks hold 13 wrenches firmly with its gripping system and comes with two sets of peel-off numbers: One in Metric sizes 6mm through 20mm and the other in SAE sizes 1/8″ through 1″. Wrench racks can be customized by combining Metric and SAE sizes. Spring tabs can also be trimmed to custom fit extra thick wrenches. Shows at a glance when a wrench is missing and offers instant selection of the right size wrench. Size:  6 1/4″ x 1 3/8″ x 12 3/4″. Both standard and inverted racks are included.
Physical Benefits:  These racks allow wrenches to lock into place in a horizontal motion with only a slight vertical motion to seat the tool in the available holder space. Each prong can be labeled for simple inventory control. The single motion to select each wrench is possible due to the open Shadow Staging System access to tools. This combination of devices reduces physical motion for tool selection and return. This is all aided by the constant visual cues for tool location both for selecting and returning tools.
Made in the USA.
ALL PRODUCT, PRODUCT SPECIFICATIONS AND DATA ARE SUBJECT TO CHANGE WITHOUT NOTICE TO IMPROVE RELIABILITY, FUNCTION OR DESIGN OR OTHERWISE. Tools are not included.
Description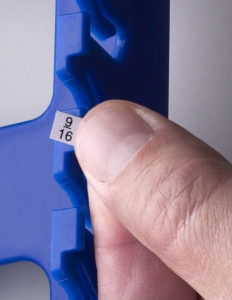 Only logged in customers who have purchased this product may leave a review.