Rack- 4 Holes- HDPE Plastic- Mountable
$18.95
Use: This rack can be used to hold the working end of small shaft tools like screwdrivers and chisels or adapted to hold tools like circuit testers. This is a must have accessory since it can hold a diverse range of tool types and can be mounted anywhere.
Included In System Purchase: Included in system purchase (3).
Placement on System: This accessory was designed for use on the wing section of the system but can also be mounted on the center stanchion risers. It can also be mounted on the long side if preferred and depending on what you are mounting to the wing panels it can also be mounted on the back side of the panel for those small items you don't need very often but still need and don't want to use up the real estate on the front of the wing section. Since it is made from HDPE it can be attached in any position so it can be added to any hole on the Shadow system and at any angle or any side of the rack.
Specs: Made out of HDPE plastic for easy machining if custom resizing of hole opening is needed.  This is intended to be mounted on the 1″ surface so it extends out from the wing section panel. The four (4) holes are perfect for small thin shaft screwdrivers and these holes also work great as pilot holes to enlarge for holding you big chisel. The block is 1″ Wide by 4″ Deep.
Physical Benefits:  This holder style allows the tool to be slipped or locked into place. This single motion is allowed due to the open Shadow Staging System access to tools. This combination of devices reduces physical motion for tool selection and return. This is all aided by the constant visual cues for tool location both for selecting and returning tools.
Made in the USA.
All Shadow accessories are designed for versatility. Please feel free to send us a note to let us know your unique use so we can let our customers know of your great idea!
ALL PRODUCT, PRODUCT SPECIFICATIONS AND DATA ARE SUBJECT TO CHANGE WITHOUT NOTICE TO IMPROVE RELIABILITY, FUNCTION OR DESIGN OR OTHERWISE. Tools are not included.
Description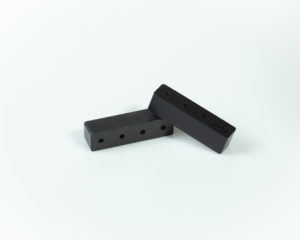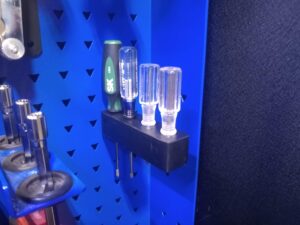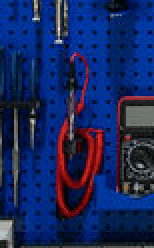 Only logged in customers who have purchased this product may leave a review.