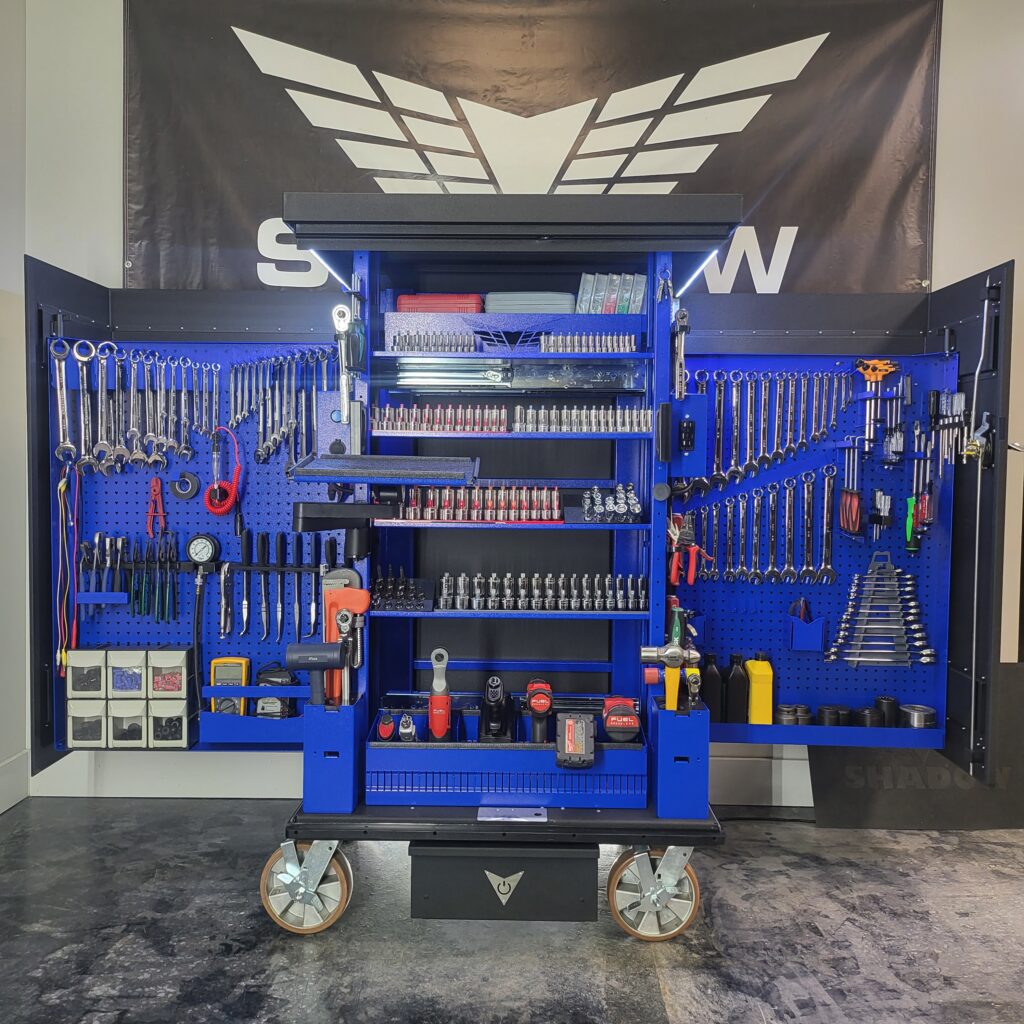 SHADOW TOOL STAGING SYSTEM TSS 5.2
MADE IN THE USA– Your Shadow Staging System™ includes amazing standard features to provide superior capabilities at your point-of-work. The included features and accessories listed below provide the base system you need. Simply add accessories for a complete custom fit to maximize your tool processing capabilities. 
Either the Master Accessory Package (shown on image) or individual tool accessory selections are needed to complete the Shadow Tool Staging systems. Your personal preference will dictate how you choose to expand your system. 
The Shadow Tool Company recommends that Master Accessory Package shown to the left as it provides holding capabilities for a vast selection of tools. Once you are accustomed to your system you can easily expand capabilities from there.
Dimensions: 5'2″ Tall by 30″ Deep by 36″ Wide, expanding to 7'6″ Wide during use.
ALL PRODUCT, PRODUCT SPECIFICATIONS AND DATA ARE SUBJECT TO CHANGE WITHOUT NOTICE TO IMPROVE RELIABILITY, FUNCTION OR DESIGN OR OTHERWISE.
Protected under US patent 8,944,444 and patents pending.
Tools are not included.
Shadow TSS 5.2 Included Features and Accessories: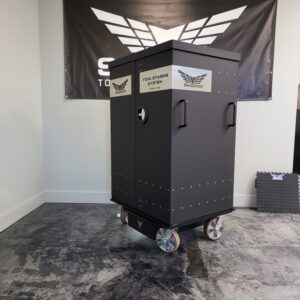 Enclosed System with Keyed Lock
Fully enclosed system with keyed lock . The enclosure locks down using a cam system with a single handle.  This secures the system and lower drawer with one motion to save time. 
The whale tail handle folds down for narrow profile to allow system to move through pedestrian doors.
Maneuvering Handles– Two vertical handles are positioned on both enclosure ends to allow ergonomic motion in any direction.  System also includes two interior handles for exact system placement when the system is open.  This keeps tools within hands reach as much as possible.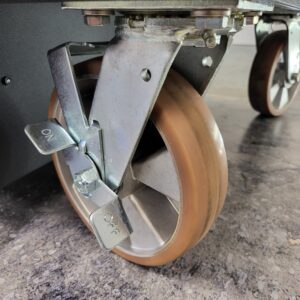 Shadow has four (4) 8″ wheels mounted on industrial casters.  This large size was chosen specifically for ease of motion.  These wheels drastically reduce the physical burden of moving the large volume of tools mechanics use on a regular basis.  These wheels are one of the most significant ergonomic benefits Shadow provides for the mechanic.
All four casters swivel.  This allows simple and accurate positioning to keep tools as close to hands reach as possible.  This saves time and ergonomic motion/strain.  
The left and right back casters have index locks to prevent free swivel motion to control Shadows path of movement. Unlocking the index allows 360 degree rotation of casters.
The left and right front casters have brakes with large tabs to easily control with your foot.
All four wheels are ergonomic certified for ease of motion. Each caster is rates for 1,250 lbs. and come with the manufacturer's industry leading 4-yearLimited Warranty.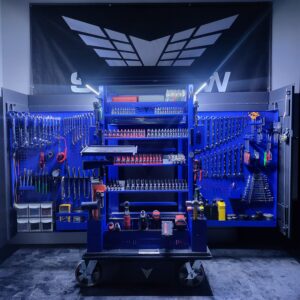 Built-In Power (110, USB, 12V)
Great consideration was given to all of the power capabilities Shadow provides, both with options and safety.  
The system power comes in through and inverted male inlet with protective cover.  All power is circuited through a GFI outlet to help ensure safety for both the mechanic and the products being used.
The decision was made to provide every common power supply option available on the market:  
(2) 125A duplex outlets with built-in USB ports, both A and C styles- (1) right side center support stanchion, (1) charging drawer.  (1) 12V outlet left side center support stanchion.                                                                                                                                      (1) LED system with 10Ah Lithium backup battery.  Switch located by 12V outlet.
The LED lighting is attached around the base of the enclosure lid.  In front a shroud blocks the LEDs from the mechanics field of view.  Lighting allows efficient tool processing (selection/return) in every lighting environment.  The back up battery saves time, eliminating the need to attach the system power for a quick repair.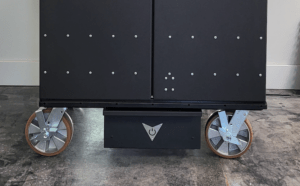 Battery Charging Drawer, located below the system base, has a with a standard 110V duplex outlet with both the USB A and C style ports. The outlet is on the back drawer panel for easy power access.
The drawer locks with enclosure locking system. Soft close slides keep drawer in place.
Drawer measures 18.9″W x 16″D x 7″H. 
Customer assumes responsibility for electronics and chargers used in this drawer.  Please consult with product manufacturers to ensure safe use in small enclosed space.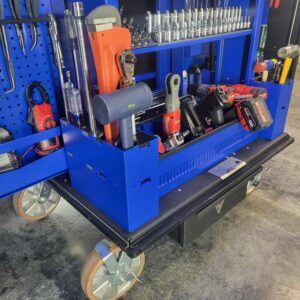 Large Tool Canister Racks
Canisters are mounted on the front right and left corners of the system.  They are used for longer and heavier tools. 
They hold long extensions, screwdrivers, pry pry bars, hammers, etc.  There is an extended space on the back of the right canister to hold 3 extra long pry bars up to 36″ in length.
The tools are held upright by using two layers of HPDE plastic inserts (pre-drilled- one on top, one in the middle).
The canisters are important real estate on your Shadow system.  If a different hole pattern works better for your needs a blank set of inserts (no holes) are available as an accessory option.  This would allow the customer to machine/drill custom holes to fit each tool.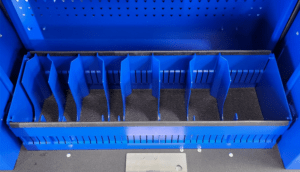 Driver Holding Rack rests on front base of the system.  It includes four (4) sets of driver insert sets which can be installed to fit any driver width. 
These were intended to be installed with space in between each set to create another location for inline drivers or to hold battery driven drivers on their battery packs. This holder offers countless options for presenting drivers for quick access.
The entire rack can be moved back (requires bolt adjustments) to allow larger power tools to be held.
Holds 7 or more drivers, or less if you prefer.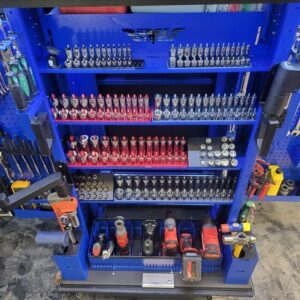 Four (4) Center Shelves typically hold socket sets or customers have added foam inserts to hold torque wrenches.
Shelves can be adjusted for height by 1″ increments.
Each shelf bottom is slotted to allow other accessories available on the market to be attached with bolts, if desired.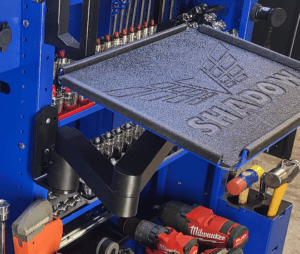 (1) Table on Swivel Mount
The 10″ by 14″ table is attached to a Swivel Arm that can extend 16 inches for use.  The table and arm are attached without bolts so they can be easily removed.
The table mount allows it to rotate 360 degrees plus swivel up and down.
Table folds quickly into the system enclosure for storage.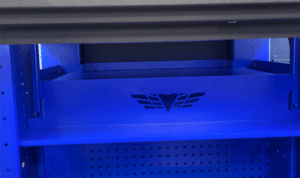 Built-In Top Shelf area for miscellaneous kits to be stowed. This area is 27″ W x 21″ D x 7″H and can be found right under the enclosure lid. The height is 5.5″ but varies with the additional open space under the enclosure lid (will give 2″ of clearance).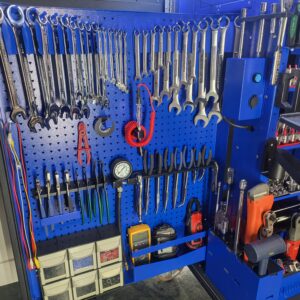 (2) Large Extension Panels
Wing Panels measuring 30″W x 40″H extend from each side of the system with industrial slides. 
Each slide is rated for 600 lbs. and come with a Limited Lifetime Warranty from their manufacturer.  
Holes are available with 1″ spacing.  Shadow holes are a V shaped pattern similar to the Shadow logo. 
The panels have a 3″ wide frame edge, giving the wing panels depth rigidity. These frames also have a few incremental hole patterns for limited tool placement.
This image is set up using the some of the Master Accessory Package.  Countless tool arrangements are possible.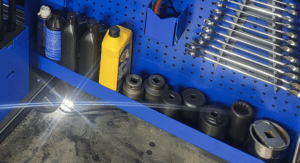 Shelf runs the width of the extension panels.  Can mount either side and numerous heights. 
It was designed to hold the width of an oil can but also works great for extra large sockets, etc.