Description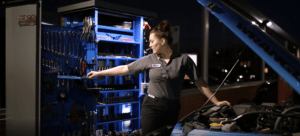 Your Shadow Staging System™ includes amazing standard features. These features provide superior capabilities at your point-of-work. After these included features and accessories listed below personal preference will dictate how you choose to expand your system. Don't worry, you can then select $200.00 of additional accessories! These can be selected with your system or after your system is in place, so you can insure you have what you need.
Dimensions: 6'5″" Tall by 30″ Deep by 36″ Wide, expanding to 7'6″ Wide during use.
ALL PRODUCT, PRODUCT SPECIFICATIONS AND DATA ARE SUBJECT TO CHANGE WITHOUT NOTICE TO IMPROVE RELIABILITY, FUNCTION OR DESIGN OR OTHERWISE. Tools are not included.
Shadow Tool PRO 6.5 Included Features and Accessories: 
Fully Enclosed System with Keyed Lock and with two handles on either side for easy maneuvering. BTW, all metal components are powder coated steel. The enclosure locks down with one handle to secure the side panels and lower drawer with one motion.
Four (4) 8″ Wheels with (2) locking and (2) indexing wheels. These locks and indexing components can changed to any caster you prefer but will come mounted as follows: The locking wheels will be the two front and the index wheels will be the two in the back.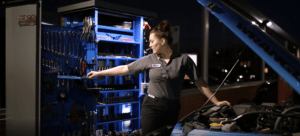 Power Support includes an inverted male inlet plug, dedicated GFI protector on back of unit, UPS battery backup unit for remote LED light usage, 110V in lower battery charging station drawer, 110V outlet with (2) USB ports, 12V outlet and LED light switch and LED lighting in enclosure lid to allow selection of tools to continue in poor lighting areas (this lighting is not directed at your tools).
Battery Charging Drawer below system base (or anything drawer) with a standard 125V outlet in the back for easy power access.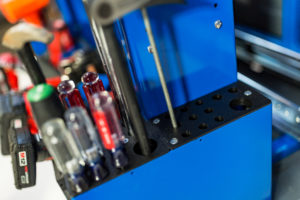 Canisters on left and right front of base used for long items like extensions, screwdrivers, pry bars, hammers, etc. These canisters use custom tool control inserts so you have options to choose from based upon how you want to use this area.  You can choose the patterns we have or select blank inserts with no holes and make your own custom hole patterns. They are made from HDPE plastic so they machine easily.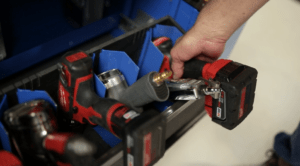 Driver Holding Bank on lower front by the base includes (4) sets of driver holding insert sets which can be installed to fit any driver width. These were intended to be installed with space inbetween each set to create another location for inline drivers or to place drivers on their battery packs. This holder offers numerous personal preference options on how you would like your drivers presented. This driver holder slides into the Shadow system for storage time but slides out to present drivers while in use. Holds 7 or more or less if you prefer.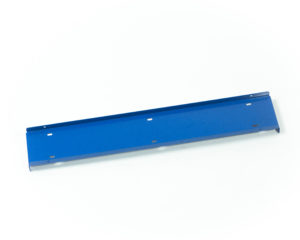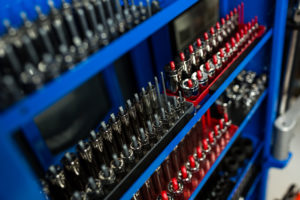 Six (6) Center Shelves which are intended to hold socket sets but hey, they are shelves so….
Six (6) Center Section Handle Racks that mount on the side supports. You have four patterns to choose from and again you can choose blanks (holders with no predrilled holes) if you prefer. These are made out of HDPE plastic for easy machining.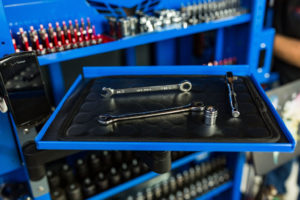 One (1) Table on Swivel Arm (10″ by 14″ with rim) that can extend 16 inches for use and folds into the system enclosure at the end of the day. Second image shows the magnetic sheet by Lodersol in use (sheet not included).
Built-In Top Shelf area for miscellaneous kits to be stowed. This area is 27″ wide by 21″ deep and can be found right under the enclosure lid. The height is 5.5″ but varies because there is additional space under the top lid (so those who like to tuck things in every space, you know who you are, that lid space will give you another two inches of height).
Two (2) Wing Panels measuring 30″ wide by 40″ high. These panels have square holes every 1″ for accessory attachment. They also have a 3″ framed edge giving the wing panels depth and also  serve as a handle to easily slide panels out for use. These frames also have additional holes (not as many as the panels and with no real purpose for now but Shadow was built with the intention of future expansion, so you have to have extra holes for the future!).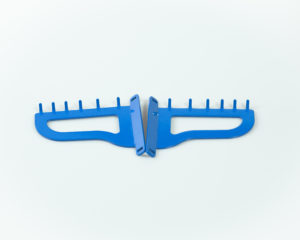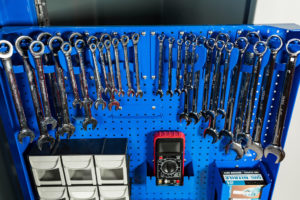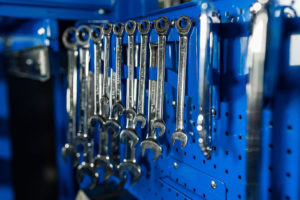 Two (2) Sets of Wrench Hangers. The first Hook Set (2 pieces) is a standard linear wrench holders with 14 hooks on each holder. These hooks can hold multiple wrenches per hook. The second set is our new patent pending Wrench Wing Holders ™ which allow you to easily visualize each wrench for fast tool inventory control. The set includes 8 holders, mounting both left and right in 3-hook, 4-hook, 5-hook and 6-hook styles.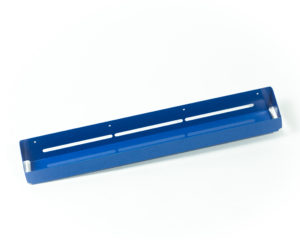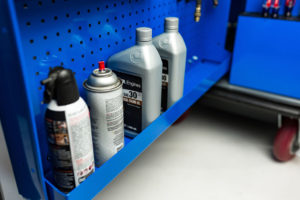 One (1) Fluid Shelf this shelf runs the width of the wing panel (BTW both 6.5 and 5.2 have the same width on everything, the 5.2 is just 13″ shorter). The fluid shelf was designed to hold a standard oil bottle.
Five (5) Tips Up TM Sets which will hold 15 screwdrivers or torx wrenches (so anything with a handle and shaft) of any length with the exclusion of stubbies. They are usually too short but they can be inserted into the top portion of the Tips Up set and are kept in place well by the diaphragm of the grommet.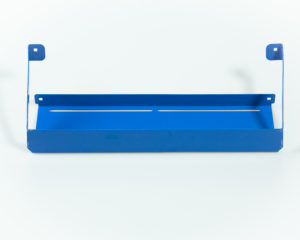 One (1) 15″ Shelf that can be used for anything (it also has slits that run the wide of the shelf so you can purchase the hex wrench holding blocks if you want to hold hex or Torx wrenches).
($200.00) in Additional Accessories that you choose beyond the base system. You can select these now or you can purchase them after you become accustom with all of the standard holders that come with your system.
Personal preference really comes into play beyond the base unit so have fun shopping for the rest of your accessories. I would recommend that you stick with the basics of the core wrenches and electronics that you are sure you will use. Get comfortable with your Shadow system before you add all of your accessories. Remember, you are changing a habit you have had your entire career so it will take time. Give yourself 30 days to settle in. That is how long it takes to develop a habit. All of our trial mechanics fell into that time frame of 30 days. Breaking old habit of using drawers or walking over to a wall to get tools is difficult but well worth it once you have free tool access!
We would like to draw attention to the most important accessory, if you use a laptop/notebook. The articulating arm for the Laptop Holder will save quantifiable time every day just from efficient tool use.  Adding an articulating arm for a laptop saves additional time above and beyond using Shadow.  Start noticing the time you spend walking over to get data from a shared laptop or computer station. Laptop access at your point-of-work is not only a big time saver but also helps keep your mind in the game!
Shipping: Shadow will be delivered by Light Truck Load in a custom crate. Your facility will need to have either a bay dock or a forklift for crate removal. Special shipping arrangements can be made for facilities without a bay or forklift for an additional fee (trucking companies charge extra for residential shipments requiring a Tommy Lift).
Shadow was invented, engineered and is built in the USA. US Patent 8,944,444 and Patents Pending.
ALL PRODUCT, PRODUCT SPECIFICATIONS AND DATA ARE SUBJECT TO CHANGE WITHOUT NOTICE TO IMPROVE RELIABILITY, FUNCTION OR DESIGN OR OTHERWISE. Tools are not included.