Center Shelf Backstop
$29.95
Use: A backstop for center section shelves.  Keeps loose items not held within custom holders from falling off back of the center shelf. These backstops have a great look but should NOT be used behind large socket holder sets.
Included with System Purchase: One shelf backstop included with new system purchase.
Placement on System: This accessory was designed for use behind center section shelves
Specs: Spans width of center shelves.
Made in the USA.
All Shadow accessories are designed for versatility. Please feel free to send us a note to let us know your unique use so we can let our customers know of your great idea!
ALL PRODUCT, PRODUCT SPECIFICATIONS AND DATA ARE SUBJECT TO CHANGE WITHOUT NOTICE TO IMPROVE RELIABILITY, FUNCTION OR DESIGN OR OTHERWISE. Tools are not included.
Description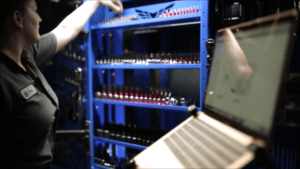 Only logged in customers who have purchased this product may leave a review.